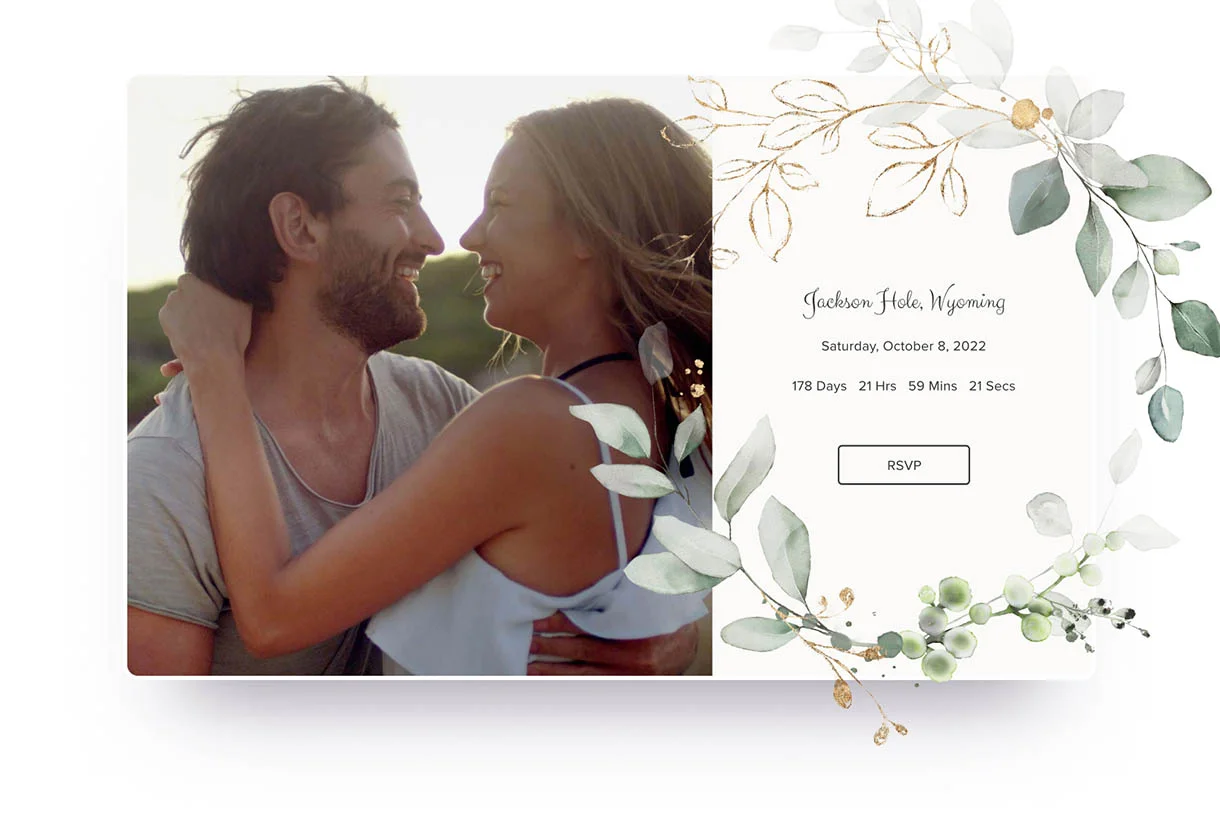 Your free wedding website and so much more.
Create a wedding website that is uniquely yours, completely customizable, and anticipates all your wedding planning needs.
Hundreds of beautiful wedding website templates.
Explore gorgeous website designs with matching prints or online wedding invitations. From classic to modern, find the design that fits your wedding style.
Explore Design Templates
Explore Design Templates
Customize to your heart's delight
Customize to your heart's delight
Unleash your inner creative or keep it simple with flexible design tools.
Easily unleash your inner creative or keep it simple with flexible design tools.
Hand-crafted Designs
Whether you're going floral, modern, or feel undecided, browse hundreds of website design templates and customize them to match your style.
Your Color, Your Way
Choose from any color, just as it should be. Follow the latest color trends or find that perfect peach-ish plum. Whatever hue tickles you pink, we have it.
Get Fontastic
Find the perfect font — whether you know you need a serif or just that you want something elegant, we've got you.
Comfortable with code
Get under the hood and change the CSS to tweak the little details — we're all about customization.
We've made sure your beautiful photos and the art in your website's design are always crisp, clear, and colorful, so you look good on every screen.
All the little details, detailed.
A page for all the wedding details your guests need to know, from your first announcement to your last event.
Your beautiful engagement photos and artwork will always be crisp, clear, and colorful so your site looks stunning on every screen.
Personalized Schedules
From the rehearsal dinner to the post-wedding brunch, choose who can see and RSVP to what.
Helpful Guest Q&A
Stop. Answering. The Same. Questions. Create an FAQ for your guests — we'll even give you suggestions to start, from dress code to arrival details.
Guest Travel Tools
Provide guests with travel information to book their hotel and flight, get a ride, or even find the best spot to grab a bite.
All the Registries
Whether you're looking for honeymoon funds, supporting a cause, or yearning for a KitchenAid mixer, put all your wedding registries in one place.
Share Your Love Story
There isn't always time to tell the tale at the big bash. Warm your guests' hearts beforehand by publishing your story for all to read.
Wedding Party Bios
Introduce each member of your wedding party with their own photo and details, reducing the who's who convos for all.
Multiple Editors
Plan together without sharing passwords.
We've made it easy to invite your partner, planner, or mom to collaborate on your website without having to share accounts or passwords.
RSVP on your site never felt so right.
Track who is coming to each wedding event, their meal choices, and more with powerful online RSVP.
Learn about Smart RSVP
Multiple Events
Add all of your gatherings to your schedule and keep your responses organized.
Plus Ones and Households
Easily manage your guest list by limiting the number of plus ones per guest.
Follow-up Questions
Get all the details by asking follow-up questions.
RSVP Tracking
Guest RSVPs automatically update in your guest list. Quickly see all your responses at a glance.
Powerful Event Privacy
Keep it under wraps.
Use your wedding guest list to manage who sees what on your site.
Personalized schedules for each of your guests
Rehearsal dinner? Secret post-wedding breakfast? Invite specific guests without having to explain to others why they didn't get the memo.
Password protect particular pages
Choose which pages are visible to everyone and which require your wedding password for access.
Guest Travel Tools
Don't trip over travel.
Booking Assistant
Let attendees book accommodations from your site.
Help your guests easily find and book accommodations at the best rates through major travel sites.
Travel Recommendations
Make sure guests' travel won't unravel.
From hotel blocks to airport details, transit schedules to shuttle info, share every little thing. Even list the best spots to grab a beer or burger.
Map and App Integrations
Map it all out for your guests.
Allow your guests to easily get driving directions with Google Maps integrated into your schedule. They can even hail a ride with Uber and Lyft directly from your app.
Guest Mobile App
Give your guests the deets on the go.
Your website comes with a companion mobile app so your guests can stay in the know and even upload photos to a shared photo gallery.
Learn More
Matching Stationery
Save the Date and invites to match your site.
Your wedding website comes with beautiful matching Save the Dates and invitations, available as eCards or prints, plus stationery for all your wedding day needs!
Still have questions?
Joy seems to offer a lot of different features. Can I pick and choose what to use?
Most definitely. We designed Joy's wedding website builder to accommodate weddings of all shapes and sizes. You can remove any functionality of Joy that does not apply to your wedding. Don't have a wedding party? Don't want a wedding day countdown? Simply remove a section from your dashboard and it will automatically be removed from your website and app.
Can I customize my wedding site for particular guests, for example my wedding party or rehearsal dinner guests?
Yes, you can edit your schedule visibility so only particular wedding events and their details are shown to only specific guests. You can also add password protection to all sections of your site so only guests can see your wedding info.
Can I use my website in stages? Meaning, can I have some information live and not others?
You can absolutely update your website at any time. If you have any information that has yet to be resolved, feel free to put a TBD or remove it for the time being. Your guests will not be updated if you make changes automatically, but you can send out an email from our platform to let them know.
Do you support custom domains?
Yes, you can purchase a domain name directly from Joy (or use a domain you already have) and set it up to forward to your withjoy.com URL when someone visits that domain.
Can I use the website without the app?
You can use Joy to create your wedding website and not share the download links to install your wedding app. However, if you want your guests to be able to upload photos to your website, they will need the app.
What do I need to open a Joy account?
You can create a Joy account using either your email or Facebook.
What should be on a wedding website?
The basic function of a wedding website is to communicate all the important details your guests need to know about your big day, including your wedding date, location, dress codes, and gift registries. Check out our 19 Tips for Building a Perfect Wedding Website for more inspiration and guidance.
When I share my website with someone, what can they see?
When your guest receives their invitation, they'll see a personalized version of your wedding site. That means they'll see the schedule they're meant to see alongside the pages you've allowed them access to.
Can I customize the pages that appear on my website?
Yes! Joy allows you to create custom wedding website pages, or even adapt your site for other important events such as anniversaries, birthday parties, and baby showers.
Joy wedding websites, planning tools, registry, and online Save the Dates and invitations are free!
Do you have a support team we can reach out to if we have questions?
Absolutely! Our amazing support team works hard around the clock, every day of the week, including weekends, to make sure that your questions are answered. You can send us an email at support@withjoy.com.
"Joy thinks of everything when it comes to creating and designing a wedding website."
Nicholas & Micah
Married in 2014
Photo by Shay and Olive Photography